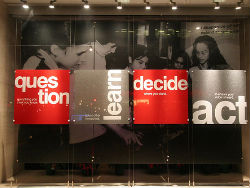 In today's economic climate, your business needs to do more than just wheel out the same old tired marketing strategy year after year. The popularity of online publishing tools – Facebook, Twitter, YouTube, Flickr – have created a unprecedented media opportunity for businesses to promote brand awareness by becoming an information authority on topics that are relevant to your industry.
Benefits include creating a sizable following that can help provide quality feedback on products or services. According to research performed by Forrester Research, 34% of retailers say social marketing has helped increase sales. The conversation is happening. The question is are you going to join? Here are a few tips to help make the transition into social marketing easier:
Question
Take the time to learn about the most popular publishing tools and the audience they reach. This can be a time consuming process but should not be overlooked. Consider hiring a professional to manage the process for you if time is an issue. I guarantee you will yield a higher rate of engagement that can be tracked properly for ROI purposes. Understanding the feature-set of each social utility will enable your business to engage in the conversation more effectively. We suggest only trying two to three publishing tools in the beginning so you have time to familiarize yourself with each before adding a new one.
Learn
Once you understand the nature and context of the blog, Twitter feed, video or
online discussion where relevant topics are being discussed, think about how you want to respond or
engage in the conversation. Utilize the search features included in each social marketing network to learn about what is being said about your brand. Learn from the conversations and prepare a strategy that enables you to guide it in the right direction.
Decide
Often times businesses utilize social media publishing tools independently from each other. Resulting in off-topic conversations that are challenging to track and convert in sales. Your companies goal should be to harness all of the communication channels collectively to serve the overall marketing strategy of your organization. For example, use software such as Seesmic to help manage multiple networks at the same time.
Prepare
Most online publishing tools include features that enable users to customize the look and feel of their accounts/profiles. Prepare yourself by researching the guidelines of each network before creating a new account. This way you'll be able to engage in conversation immediately without sacrificing the power of your identity. Create graphics that compliment your brand and provide contact information on each that can be measured by your analytics software.
Act
Craft your responses to ongoing conversations by being transparent, respectful, clear and concise. Keep in mind that most of these social network utilities are indexed by search engines. Thus, stay on message and craft your messages clearly so they can possibly be used to help others in the future. It can sometimes be tempting to become defensive when someone attacks your brand/services. How you respond to the situation can sometimes turn a bad situation into a positive experience.