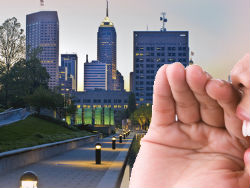 As whole, e-commerce sales have been considered to have been surprisingly good throughout the recession. The steep decline that traditional brick and mortar stores experienced has not moved into the virtual world. The biggest reason for this is that e-commerce businesses have been able to stay on top of the latest trends in internet advertising and make adjustments when needed.
The mindset of the average e-commerce website owner is aggressive, and it has to be in order to survive online. The online environment is competitive, cut-throat, and more intense than any other business environment. The biggest factor to e-commerce success online being able to adapt and infuse current trends and use them as an asset to the e-commerce site.
In 2009, e-commerce sites have seen some big changes that will alter the competitive landscape for years to come. The first is the evolution of internet access. With mobile commerce continuing to rise and smart phones advancing at exponential rates, e-commerce website must have a mobile strategy. There are new phone apps coming out every hour to promote and advance mobile commerce. While the big names (Ebay, Amazon, and Starbucks), are firmly in the lead, there is room for a large increase in competition.
E-commerce sites also saw a growing trend of social media use as a solid advertising strategy. E-commerce sites are continually being updated to allow for customer feedback and social integration using tools like Facebook and Twitter. These formats have been used for customer support, direct advertising, and company updates.
With all of these changes happening at once, e-commerce website have been struggling to keep up, often joining a trend without really knowing how advantageous the move really is. In the online world, optimization is everything. Without a strategy that optimizes time, space, and finances it is becoming increasingly difficult to maintain a quality e-commerce website.
The Big Problem:

DATA

, plain and simple.
However, the problem is not a lack of data, but an excess of data. With technology trends and social media trends continuing to evolve and expand, e-commerce sites can quickly become buried in data.
Data is useless if a business does not know what it means and how to use it to optimize their future actions. There is so much focus placed on staying on top to current trends, especially in the social arena, business are not set up to analyze all of data that they gather along the way.
Improved business metrics is critically essential and should be THE focus of companies coming into 2010. The internet will only continue to grow and expand and become integrated into everyday life. If your e-commerce site does not have the ability to digest the immense amount of data streaming in on a daily basis and more importantly, take immediate, and correct, action upon it, then you will quickly get left behind in 2010.
How are you handling your data? Are you overloaded?