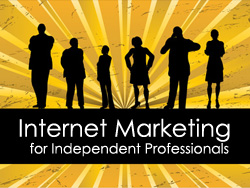 For the nine-to-five worker, the perks of freelancing may seem endless: working in your own time, choosing your own projects, being your own boss. But few people have bothered to mention the competition. There are over 10 million independent contractors in the U.S., and that figure is expected to grow as more people find themselves out of work thanks to the recession. More than ever, you need solid marketing skills to match your talents as a freelancer.


Define your services
Most marketing "experts" will say it all starts with a good website. It doesn't—what you need first is a clear understanding of your business. Start by asking yourself these questions:
Who is your target market?
What product or service do you have to offer?
How does your service fit into their business?
All that information can be pieced together to provide a clear picture of what you do. Potential clients will be asking the same questions, and your website's job is to answer them all.
It's not just about traffic
Here's another marketing myth: more traffic means more money. At best, excessive traffic gives you a marginal amount of profit considering the costs of personal marketing. At worst, it eats up your bandwidth. What you need is targeted traffic—the kind that's made up of people who are actually interested in your business. Before spending money on link exchange, pay-per-click marketing, banner ads and web directories, make sure your site is good enough to make all those visitors stay.
Tone down your copy
Selling professional services online is not the same as selling vacuum cleaners on TV. The latter tends to be punctuated by hype words like "amazing" and "incredible," which may work for haggard housewives but not for business owners looking to hire capable contractors. On your website, these words only send the message that your services are as overrated as your writing. Write the way you would normally talk to a client—formal but friendly, professional but not devoid of personality.
There's no secret formula
The Internet may have made things easier for freelancers, but some things about marketing never change. Those get-rich-quick sites that promise easy money? They're just after yours. The key to successful freelancing in the digital age is the same as it was in the Stone Age: earning trust, building valuable relationships, and doing what you can to make them last.