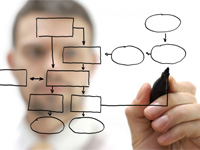 User-friendly design has been a hallmark of business long before we built our first computers. From pencils to particle accelerators, we've always moved towards changes that make it easy for people to use technology. On the Internet, user-friendly design is so heavily discussed that it's almost a cliché—but that's just a testament to its importance. The fact is that no online business can survive with a site that's not tailored to its readers.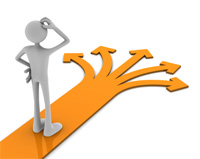 Intuitive Navigation concentrates on user expectations. It can be the difference between a frustrated user and a sale.
The first key to a user-friendly site is what professionals call intuitive navigation. Every word, link, and picture should be placed where users expect to find them. People are used to clicking the right arrow for the next page, the Buy button to make a purchase, the OK button to get on with the license agreement. That's why successful sites all seem to have the same basic layout—because it works.
Next, make your site as fast and efficient as possible. The Internet has cut most people's attention span in half, so a slow-loading page isn't likely to get much loyalty. The general rule is that sites shouldn't take longer than ten seconds to load on an average-speed connection. Limit the use of heavy imagery, and use smaller file formats such as GIF and PNG.
Website copy is also an important factor, but one that's frequently overlooked. It's a big mistake to separate visual design from textual content. The way your text looks at first glance can affect your market's judgment and your subsequent sales. People want small chunks of text with appropriate labels, so they can conveniently skip the stuff they don't need. Glorifying your product in one full-page paragraph pretty much defeats the point.
Finally, you need to consider browser and screen compatibility. Sure, you've got your IT guy to take care of it. But knowing how your site looks on different systems can save you and that guy a good deal of time. Besides, when your site doesn't play well on a particular system, you're losing a significant chunk of your market. At the very least, don't insist on fancy fonts, Flash animations, and features that require a horde of plug-ins to work.