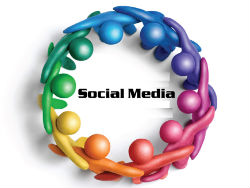 Social Media such as Blogs, Micro-blogs, Wikis, and Social Networks are not only helping many people communicate and connect, but are also powerful tools for business as well. They can be used to promote your products and services, engage customers in meaningful conversations, network and develop new relationships, or simply to distribute information about your business online.


Recently, the media has been awash with reports about Facebook, LinkedIn and Twitter, but many of you may be unclear about the concept, or unsure of its relevance to your business activities. In order to understand how to use it effectively in your business you must first understand what social media means:
Social Media is, at its most basic sense, a shift in how people discover, read, and share news and information and content. It's a fusion of sociology and technology, tranforming monologue (one to many) into dialog (many to many.)
Source: Brian Solis
Marketing Plan Integration
Position social media as a component of your overall marketing plan. Similar to print marketing, the ROI of a Social Media campaign can be challenging to measure by itself. As a result, Social Media should be one medium you're using among many in your communication with your audience and customers. Proper integration with other forms of marketing will bolster their effectiveness and enable you to sell it up the chain of command in your corporate environment.
Sales & Promotion
The ideas is to harness tools such as twitter and blogs to assist you in sales conversions. Please note that alone they probably won't turn into a conversion. However, they'll help you get the eyeballs looking at your products where you know your website can close the deal. The great thing about twitter is that you have the ability to communicate directly with your potential audience. It essentially becomes a unique and innovative tool they can use to spread the word. As long as you're providing useful content for your audience, they'll appreciate your effort and most likely visit again.
Example:
I like talking about the Zicam example. Zicam would use twitter searches for people complaining of suffering flu like symptoms. They would then use Twitter to send a direct message to the user with a creative message. Often times the message would include a link to it's product (sorry your feeling down…here's a coupon for Zicam). Think about ways you can use this formula for your business.
Reputation Management
Many clients find success in using blogging and twitter as a method for gathering customer feedback. Social media is supposed to be a conversation, correct? Well, treat it as such and allow your audience to participate in the future of your products. In addition, your audience will also use services like twitter to voice their experiences with your product. The way you respond to these users will show others that you care about your services/product.
Example:
I was speaking with a fellow Fishers Arts Council member the other day, Lisa Sirkin, about how she tweeted a bad experience with an email marketing product. The software maker responded to her within minutes and has been working with her since to resolve a software complication. Lisa explained to me that while frustrated with the product she was really impressed that the company went the extra step to make her experience right.